From floor plans to square footage, home buyers spend a lot of time trying to find the perfect house. However, it's also important to know what you're looking for in a neighborhood.
The community you choose will have an impact on everything from your daily activities to your property taxes.
There's a lot to consider as you start your search, which is why it's helpful to have a checklist before you start looking on one of the popular home search websites.
Here are 10 things to look for in a new neighborhood.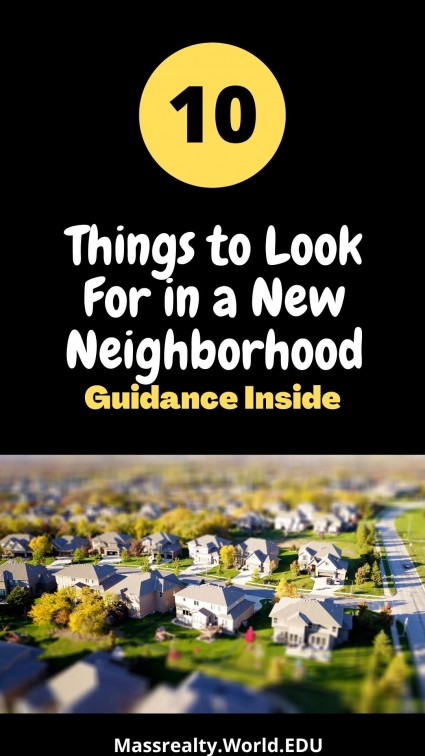 Good Schools
Regardless of whether you have kids, your local school district is incredibly important because it can have a big impact on your home's value, so it's important to do a little research. Most school districts are assigned a letter grade indicating their performance level. 
If you do have children, you should also take time to ask people in the community how they feel about the specific schools your kids would attend. You may also want to consider the availability of bus routes and walkability to those schools if that's important to your family.
Demographic Details
People buy homes at different stages of life. Perhaps you're expecting your first child and want to live in a tight-knit neighborhood with plenty of young families. On the other hand, if you're a new retiree, you probably prefer a quieter neighborhood with more opportunities for recreation and social gatherings. 
Whatever phase of life you're in, consider a neighborhood that fits your demographic desires. Your Realtor can provide this type of data to help you find an area that fits your lifestyle. 
Safety 
It's essential to feel safe in your own home. Research crime rates in a potential neighborhood before you submit an offer on a house. 
If it appears there may be problems, talk with local police about the area in question. You may find that the ZIP code has a few streets prone to crime, but the neighborhood is safe overall. 
A little research will go a long way when it comes to determining the safety of a neighborhood.
Walkability
It's easy to overlook, but walkability says a lot about a community. You'll likely want sidewalks that facilitate easy walking, running, and biking. The last thing you want to worry about is a car zooming by.
Some people even prefer to have a high walkability score to local amenities, such as coffee shops, restaurants, and grocery stores. 
Low Noise
Visit a potential neighborhood on different days at various times to scope out the noise situation. Are trees lining the backyard hiding a major road with traffic noises that would keep you up all night? Are flights from the city airport right overhead? 
These noises won't go away. Even if you're willing to live with them, a future buyer may not feel the same way. If you're trying to sell your house fast, this could deter interested buyers. Plus, it could have an effect on resale value.
Nearby Amenities
Think about the amenities you access on a regular basis. Whether it's a daily latte, the grocery store, or even the dry cleaner, make sure you have what you need nearby.
For those who now work from home, it may be important to find a nearby coworking space to escape to when your to-do list is long.
Families with kids may also want to find a neighborhood with parks and community pools.
If you have frequent medical needs, a hospital and other health care facilities would also be an important aspect to consider. It's important to think about these amenities and their proximity to a new home. 
Manicured Homes
You may feel proud to have the nicest house on the block, but you don't want to be the shining star among a string of dilapidated homes.
Your home's value is affected by the surrounding neighborhood, which is why it should look clean and well-kept.
Communities with a homeowners association usually have specific rules for ensuring that every house has curb appeal. That said, living in a community run by an HOA means you'll have monthly fees. Look closely at the dues you'll owe and any noteworthy restrictions. 
Those who plan on downsizing often do so into a more manageable neighborhood with a homeowners association.
An Easy Commute
Adding time to your commute is as bad as a pay cut when it comes to job satisfaction, according to researchers. 
If you intend to stay at your current job after you move, it's important to calculate your round-trip commute. In fact, you should test out the drive at the same time you'd be on the road getting to and from work. 
This will help you assess the traffic, brainstorm alternative routes, and make a final decision before you decide on a neighborhood. 
Public Transportation
If you depend on it, public transportation is important to research before you choose a neighborhood. Whether you're traveling by bus or train, make sure you have the stops you need close to the house. People who travel for work on a routine basis should also consider the distance to the nearest airport. 
As the use of rideshare services continues to rise, there are more options, but wait times can be extended in some neighborhoods. If you frequently use Uber, Lyft, or other services, open the app when you're in the neighborhood and check wait times and prices for rides to your usual spots.
Affordable Property Taxes
It's easy to fixate on the price of a house, but don't neglect research on local property taxes. This is easily overlooked, especially when they're rolled into closing costs. 
The county where you buy a home will impact how much you pay every year. If the value of homes in your neighborhood are expected to rise, your property taxes will likely be higher each year. Are you able to make the necessary payments in the event of an increase?
Taxes are one of those hidden costs in home buying that can really make a difference.

Although your property taxes can be much different than your neighbor's, you will likely see certain trends. Find a local real estate agent who can help you estimate the costs before making a decision. If you're concerned about saving money during your transaction, consider lowering commission costs by choosing a discount Realtor.