Whether you're looking at rental properties, flipping houses, or buying into a crowdfunding opportunity, investing in real estate offers ways to make extra income and build a nest egg for retirement. 
Real Estate agents can make significant income and so can investors.
But making serious money in real estate takes more than buying a property and sticking a "for rent" or "for sale" sign in the front yard. It involves extensive research, investing time and money, and having the patience to see your investment through. And there are obstacles that could keep you from getting the best return on your investment.
Here are seven common barriers that can prevent you from making money with real estate — and how you can overcome them.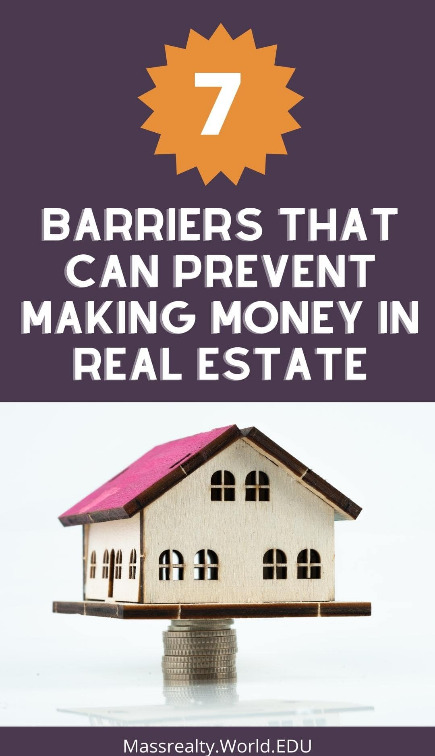 Not Enough Knowledge
The most common reason you may not earn money — or even lose it — when investing in real estate is that you don't have enough information. To avoid losing money on a bad investment, it's important to learn everything you can about the market.
Extensive research will help you decide what kind of investment is best for you and your financial goals. That means if you're interested in rental properties, you should learn as much as you can about your local rental market, such as how much you can expect to charge in rent each month, and what you will be responsible for as the landlord.
Connect with a local realtor who can help you find the best property for your goal. If you're more interested in Real Estate Investment Trusts (REITs) or buying a share in a crowdfunding project, talk with a financial expert you can trust. 
Mixed News Reports
While having access to unlimited informational resources can be helpful, too much information — especially conflicting reports — can also get in your way. 
The differing information may be about whether or not now is a good time to invest, or what you can expect to pay in interest rates. It can also differ with fundamentals, such as whether or not it's a good idea to buy a foreclosed property or how much money you'll be expected to pay when buying and flipping houses. 
Make sure you get your news from reliable sources, and always look for multiple opinions. When in doubt, consult with a local real estate expert who can give you more insight into your market.
Aversion to Risk
Fear of failure is another barrier that can get in the way of making money in real estate. Any investment requires some risk because it's impossible to predict the outcome. If you're afraid of facing any risk, you may end up flipping a home and selling it for less than you could have, or maybe you won't even bother investing from the start.
It's normal to have some fear, but don't let it guide you. Remember that real estate tends to be a lower risk investment than others, such as playing the stock market. Remember to pull from your research and let the facts — not fear — guide you.
Making Emotional Decisions
In addition to fear, making decisions based on other emotions can also keep you from getting the most out of your real estate investments. Instead of letting your emotions guide you, every decision you make should be based on data and information.
When shopping for a new income property, it's easy to look at a house and imagine whether or not you would want to live there. While that's a natural response, it's important to look at all properties from the perspective of future buyers or renters. That's information you can get from knowing your market and staying updated on the latest housing trends in your area.
Not Having Enough Money
New real estate investors, in particular, might find it difficult to begin because they're worried they don't have enough money. This is a legitimate concern, but rather than letting it keep you from investing, you can use your financial considerations as a guide to make decisions.
For example, if you're starting out, you could work with a partner to buy a fixer-upper and share the costs and responsibility of preparing it for the market. You should also look for tax breaks and deductions that can decrease your expenses or increase your profits.
Whatever path you take, be sure to keep a careful eye on your cash flow, tracking all expenses and income. If you're starting out, it may be beneficial to take a couple classes or to work with real estate and investment experts who can help you build your budget.
Gender Biases
Unfortunately, some of the roadblocks that get in the way of earnings involve inherent biases. Reports show that single women in particular receive lower returns when buying and selling homes than their male counterparts.
But if you're a woman looking to make money in real estate, don't let history get in the way. There is a growing number of single women making money as realtors, renovators, and landlords. Look to join women-led networks that will provide you the information and support you need to develop your real estate investment portfolio.
Buying Outside of Your Local Market
It's tempting to buy a rental property in a hot market. But if you're new to real estate and the property is far from your current base, this could actually get in the way of your earning potential. Not only is it harder to learn about a market from a long distance, but you will also have to plan on spending a portion of your earnings paying for property managers and contractors to maintain your property on your behalf.
When you're starting out in any business, it takes time and effort to get to know the market and build relationships with people you can trust. It's harder to learn about a market and develop contacts with property managers and contractors when you have hundreds or thousands of miles separating you. 
It's a good rule of thumb to start small and to work locally when you're starting out in real estate. Over time, you may feel more comfortable working in other markets, but you can't expect that overnight.