How to Stage Your Home Yourself
Do you need to get your home looking better? Are you looking for some DIY home staging tips that will help make your home stand out from the competition?
Do-It-Yourself (DIY) home staging is the skill of transforming your home into a product that will be generally pleasing to most onlookers.
While there are many reasons for staging a home, the most popular would be when a home is up for sale. It is about optimizing the layout and space of your home in a manner that highlights its best peculiarities making it stand out from other houses in the market.
This art is becoming quite popular owing to the results it brings to homeowners. In this DIY home staging tips article, we will focus on the major components of a typical home.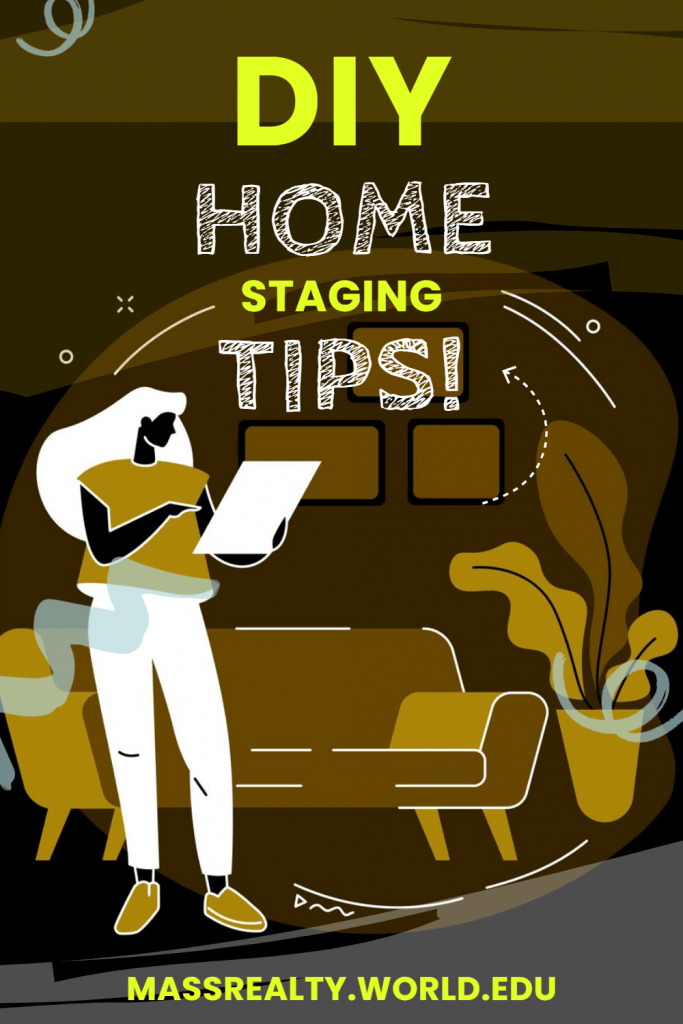 Clean and Repair to Start The Home Staging Process
Clean and repair are the rule of the thumb when it comes to DIY home staging. For any room, this can be one of the largest hindrances for home clients. Having a clean home that is free of major repairs makes your home seem move-in ready, so potential clients are not coming up with the list of stuff requiring extra work on their part.
Before you start adding decor pieces, try to get your house in top shape. Fix anything that is broken and work on decluttering the various parts of your home. It would be highly advisable first to get rid of anything you no longer need or want.
One of the better avenues to take would be to hire one of the top junk removal companies such as 1800 GOT JUNK or another refuse removal company like them. They will come to your home with a truck and take away what you don't want.
If some of your things have value they will donate the items to charity for you – a nice bonus to be able to help someone out in need. Once you have the larger items out of the way, you'll want to start organizing what remains.
This means removing unnecessary items from cabinets and closets to show that the home has plenty of storage area. Also, remove clutter from the garage, attic, and basement so that the floors are easily visible and people can start to imagine their furniture and belongings in the area.
After cleaning, repairing, and removing the unused items out of the way you can shift your focus to staging each room in the house to appeal to a wide range of buyers.
Even homes that are in bad condition can benefit from home staging. Even properties that need some TLC show much better when they are not filled and unorganized with junk.
Kitchen Home Staging tips
Certainly, this is one of the places in your home that needs to be staged exceptionally well since it will help you sell. Normally, homeowners are seeking stylish and refreshed kitchens, thus, you need to learn what is trending.
First and foremost, make sure the kitchen is sparkling clean. Declutter the countertops, clean the floors, and make all the appliances as clean and sparkly as possible.
As you might expect, it is the tiny details that make a lot of difference in home staging.
For instance, fresh fruit and flower bowls can produce a little life in your kitchen. You can enhance it with a few excellent stemwares that are set out to encourage visitors to think of entertaining in the place.
In case you own a breakfast bar, position the stools nearby but with a bit of space between the stools and bar to give the image that the bar is spacious.
Make sure all the lights are on and if there are windows, allow as much natural light as possible by opening curtains and blinds.
Living Room Home Staging Tips
When preparing the living room for potential buyers, your aim should be to make it appear big and spacious with a lot of possibilities.
This is essential because oftentimes, this is the area that a majority of homeowners gather and entertain. Make this area simple and eliminate any unnecessary and bigger decoration items.
Accentuate the windows and natural light by pulling back drapes or curtains and opening up the blinds and shades.
Luckily, the living room is the simplest place to include modern trends too, without necessarily going overboard. Although going out to purchase all brand-new decor accessories is not a must, it is a good idea to have trendy accessories that stand out.
Bright, dissimilar palettes are not just in fashion but can be a tool to attract attention to particular traits of the home that you wish to show off.
Bathroom House Staging Tips
The bathroom is another area that can impact a home for sale. Usually, potential buyers will look for a comfortable and ultra-modern bathroom that makes them feel relaxed.
Replacing old light fixtures with modern items is an inexpensive way to lighten the area and add modern touches. If you have the budget, you may consider replacing colored tile with more neutral-toned tile.
The idea is to show your potential buyer the inherent feasibility of your bathroom.
Normally, it is good to add nice items such as candles, towels, decorative soaps, small plants, and other common items found in your bathroom.
Although you don't spend a lot on DIY home staging, replacing things like bath mats and towels can indeed bring some desirable impacts.
Additionally, a bathroom is a place you should spend extra time cleaning, eliminating any build-up or mildew from the moisture. This can be an immense hindrance for buyers and may even be a reason your home will not sell.
Bedroom Staging Tips
While you want the bedroom to be inviting, you also want it to be neutral enough that a potential buyer can envision living in that room.
You will need to eliminate anything that is messing up your bedroom, as well as photos and personal items. This can mislead the buyer from noticing other appealing qualities of the home.
Have suitable and neutral colors on the bedding as well as a limited number of throw pillows. Be sure the bedroom is sufficiently lit before showing, either with natural light that comes from the windows or decorative light installations.
Home Staging Tips For Your Entrance
The front entrance to the home is what people will see when looking at pics online and determining if they even want to visit your home.
Clean the door and any windows around the entrance. Remove any clutter from the front porch or steps. Add some color by placing a seasonal plant near the door.
If the house number is on the door, or near the door, either clean it diligently or replace it with new numbers.
All of these items can draw more eyes to your listing and help you to sell quicker.
Final Thoughts On DIY Home Staging Tips
You don't have to follow any complex rules with these DIY home staging tips. Focusing on little details always makes your home stand out. Making some repairs and cleaning is a simple but excellent step to consider to render your home even more attractive to potential buyers.
By doing so you will also increase the chances that when the appraiser visits your home will look even more favorable.
Even More Home Staging Resources:
Staging your home may seem like a waste of time and money but the reality is that in most cases, staging a home can be very beneficial to a home seller. Take a look at this post by Sharon Paxson to learn about how to stage a home and why it's so important!
Virtual Staging Versus Home Staging: Which Is Better? If you don't know what virtual staging is, to put it simply, you're staging your home for the web but not for the in-person visit. Does that matter? It depends and I would encourage you to read this insightful article about virtual staging by Conor MacEvilly.
If you don't "wow" potential home buyers with a great first impression, there's a good chance you will not get top dollar for your home. Staging your home is an art and if it is not taken seriously, your home could look downright UGLY. Michelle Gibson goes through home staging mistakes that must be avoided if you want to create a lasting first impression.
Use all of these additional home staging articles to make your home look like a showplace. If you have the time to put it in, DIY home staging can save you lots of money and get your place looking as good as a pro. Best of luck!