Whether you're a savvy investor looking to buy a bargain foreclosure or a first-time home buyer purchasing a fixer-upper, rehabbing homes has never been more popular. But it's not easy.
From contractors who ghost you to unforeseen expenses that wreck your profit margins, all kinds of problems can arise and derail your renovation. 
1. Pricing Problems
The success of a house flip depends upon the sale price of the rehabbed home. That's because the projected sale price determines how much you can pay for the property and how much you can budget for renovations that will increase your returns. But projecting "after repair value" (ARV) is more of an art than a science. 
House flippers often seek a projected ARV in the form of a broker's price opinion, but those can vary wildly.
Although some brokers do actually work in the markets where they project post-renovation property values, many do not, which can limit the accuracy of their opinions. 
Another way to determine an investment's ARV is to hire an appraiser who's experienced with rehabs to estimate a value based on your renovation plans. This can be complicated, too, because as any house flipper knows, renovations rarely go exactly as planned. 
In addition, two appraisers looking at the same renovation plan may come to two different conclusions. Unfortunately, there could be appraisal problems. In the end, one of the most dependable ways to determine your property's post-rehab price is to get several appraisals and average them together.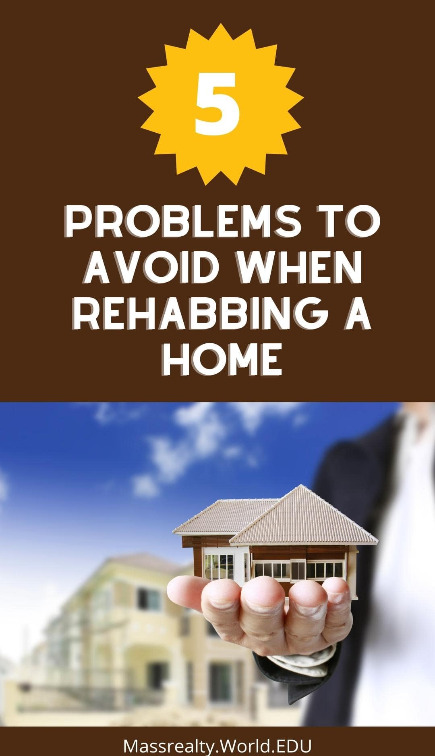 2. Contractor Complications
Renovations will often unfold differently than you planned, often because of contractor problems. 
Everyone who's remodeled knows that finding a dependable, honest contractor is the first step when flipping a house. Even with the ideal contractor, there are a lot of factors, such as  sourcing materials, scheduling, and subcontractor availability, that are out of your control.
These problems have only gotten worse in the post-pandemic era. Materials in short supply have gotten more expensive, and lead times have gotten longer, meaning there's even more potential for scheduling snags.
Contractor delays are one of the most common problems that house flippers encounter. They're also one of the most expensive because carrying costs, such as insurance, taxes, and utilities, eats into your profits day after day. But if you're a homeowner, some of these costs, such as mortgage interest, can be valuable tax deductions. 
However, if you're funding renovations through credit cards or out of pocket, there are few things more frustrating than living in a half-renovated home.
Of course, you might be stuck with a contractor who does poor-quality work. This can be a very serious problem, especially if you have to fire them and start over with someone else. 
If you find yourself in this situation, document the problematic work through time-stamped photos and written correspondence, so if you have to go to court, you can present a real-time record of what happened. 
3. A Less-Than-Ideal Market Fit
You've probably heard of seller's remorse — when a recent home seller regrets their sale. But rehabber's remorse is also a common sentiment. 
A typical mistake made by novice home flippers is that they renovate the property according to their own tastes instead of what future buyers will want. Then they find themselves with an unsellable property.
Although you may love stainless steel appliances and quartz countertops in the single-family home you just rehabbed, the high-end features might price the property out of reach for first-time homebuyers who are the primary buyers in that neighborhood. 
Carefully consider all renovation plans that hinge on matters of taste, such as open floor plans, carpet, finishes, or outdoor space. Rehab to the market, not what personally appeals to you. If you're not sure what local buyers are looking for, ask a good real estate agent.
4. Old Pipes and Wiring
Outdated and dangerous plumbing and electrical fixtures are some of the most common problems that remodelers face, especially if they work on older properties.
When it comes to plumbing, most homes built before the 1960s use galvanized pipes, which are notorious for becoming corroded or clogged. Although it's a big and pricey undertaking, you'll want to replace those pipes with newer copper or PVC pipes. 
It's less troublesome if you're doing a gut renovation because the pipes will be exposed anyway. If you're not doing a gut renovation, you'll probably have to tear up some floor.
Old wiring presents a similar problem. Outdated electrical wiring is easily overloaded and can be a fire hazard. You'll want to rewire the home and replace all the outlets. That's work that will have to be done by a licensed electrician and can be very time consuming.
5. Hazardous Materials
Many rehabbed properties are on the older side, which means they could contain hazardous materials, such as asbestos or lead.
Lead is most commonly found in paint or water pipes. The federal government banned lead paint in 1978, but many homes built before that year contain some. If the paint begins to peel, flake, or chip, it can spread harmful lead dust.
Home sellers are legally obligated to disclose facts about lead paint to buyers. If you're rehabbing a home for the market, it could make your sale a lot easier if you remediate the problem yourself. If you're an owner who's planning to live in the home, you'll definitely want to remove anything that could harm your health. 
The expense and scope of the process is going to depend on how much lead paint is in the home. If the exterior is covered in lead-based paint, you'll have to encase the home in a protective shroud while professionals carefully remove the paint. That's a process that's as expensive as it sounds, but hopefully you can get a home buyer rebate to help with the cost. 
Soil may also have to be removed if it's contaminated. Even if you only have a little lead paint inside the home, you'll need professionals to remove and dispose of it according to safety regulations. 
Asbestos is even more dangerous than lead and can be found in insulation, floor tiles, siding, wallpaper, and even fabrics made before 1980. Like lead, asbestos removal requires special expertise and should only be handled by professionals.