The vast majority of experts say the preference for remote work is here to stay. This massive shift in where and when we work has granted many a newfound sense of freedom.
Not being forced into an office has translated into workers not being tied down to a specific neighborhood or city. 
Therefore, it's not surprising that many workers are moving away from the nation's dense urban centers like New York City and San Francisco in favor of suburbs and less developed areas.
Former city dwellers search for greener pastures, more space, outdoor activities, and lower taxes. Many second and third-tier cities have taken notice of this trend and are doing all they can to attract newly remote workers.
This article will cover tips for remote workers looking to relocate and ten cities currently offering various incentives for digital nomads.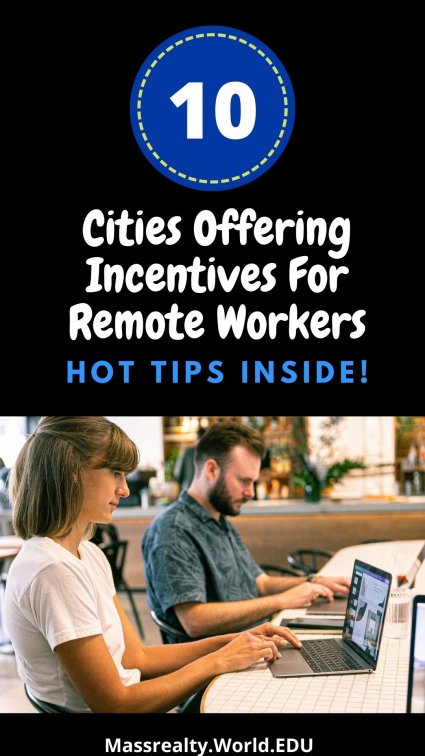 Tips for Relocating to a New Town
While leaping to move a long distance on a whim may sound tempting, there are some things remote workers should know ahead of time in order to prevent headaches down the line.
Whether you are working for yourself or a company, you need to understand your average monthly income and expenses to know whether you can afford to live in a particular area.
Over half of Americans say they don't track their expenses, with many of them adding that they don't think budgeting is necessary. 
If you fall into this category, you should realize that moving to a new area without first understanding your budget can lead to problems depending on where you move.
For example, an $80,000 salary would go far in Kansas City, Mo., where there is an extremely low cost of living. Still, in San Francisco — where housing and groceries are significantly more expensive — it would be much more challenging to live comfortably.
Moreover, if you are trying to buy a home in a new city, be sure you really want to settle there for a few years.
If you decide to sell your home after less than a year of purchasing it, you'll pay a short-term capital gains tax of 10%-37% on the home's profit. After a year, that percentage goes down to a more manageable rate of 0%-20%.
Understanding real estate capital gains laws are always vital when buying and selling a home.
Finally, when moving to a new city, using a real estate agent can significantly help with finding a home, especially if you're not familiar with an area.
A good agent will know about different neighborhoods and their overall vibe, schools, restaurants, property taxes, homeowners association (HOA) rules, and more.
Cities Offering Incentives to Remote Workers
1. Lewisburg, W.Va.
West Virginia offers remote workers up to a $20,000 value in cash and perks to relocate to Lewisburg. The program was created as a way to combat population loss. Participants will receive $12,000, plus other incentives like annual passes for whitewater rafting, golf, rock climbing, horseback riding, skiing, and ziplining. 
2. Ontario, Ore.
Sitting directly where the Oregon Trail meets the Snake River, this agricultural community attracts nature lovers from around the nation. The city is offering $10,000 towards new home construction, perfect for those interested in building a home from scratch.
3. Tulsa, Okla.
Tulsa currently has two programs to draw workers –  inTulsa and Tulsa Remote. Both of these organizations help newcomers establish social and professional networks in the area and cash incentives.
The inTulsa program matches out-of-state talent with employers, providing up to $10,000 in relocation incentives for those moving to Tulsa. Meanwhile, the one-year Tulsa Remote program gives $10,000 to remote workers that relocate to Tulsa and a free one-year membership to a co-working space and access to events.
4. Berrien County, Mich.
The Move to Michigan program started in October of 2020 in order to attract people to the state. It grants up to $15,000 towards purchasing a home in Berrien County, which is just 90 minutes from Chicago. Also, it includes potential perks such as a free airport shuttle, an annual pass for the Chicago commuter trains, annual memberships to a fitness club and golf driving range, and a free membership at a coworking space.
Applicants cannot be current residents of Michigan and must show that they are working remotely for a company outside of southwest Michigan.
5. Greensburg, Ind.
Greensburg, Ind., offers $5,000 in cash for moving expenses and an additional $2,000 in gift incentives for remote workers. Eligible applicants must relocate to Greensburg within 6-12 months, be at least 18 years old, and be eligible to work in the U.S.
6. Grafton, Ill.
Are you interested in free land? Then consider moving to Grafton, Ill. Right at the intersection of the Illinois and Mississippi Rivers, more than 20 lots are available, each approximately one-third of an acre. The landowner has three years to build a home on the property; otherwise, the city will buy back the land for $4,000.
7. Topeka, Kan.
The Choose Topeka program offers remote workers up to $10,000 toward buying a home or $5,000 toward paying rent their first year in Kansas. An applicant's employer must be located outside of Shawnee County to qualify. There is a three-month waiting list.
8. Augusta, Maine
In Augusta, Maine, remote workers can qualify for a tax rebate totaling their entire state tax bill, as long as they live in Maine for the whole tax year and graduated college after 2008. There are additional benefits for those with degrees in specific fields, such as STEM. The website MakyMyMove.com estimates the total incentive value at up to $15,660. 
9. Honolulu, Hawaii
Remote workers can say aloha to Hawaii as part of its Movers & Shakas program. The deal is open to everyone, and it provides discounted airfare, hotel stays, and access to coworking spaces. 
10. Juneau, Alaska
If you're after some true wilderness, then you might consider Alaska. Those that move can receive $1,000 per year from the Alaska Department of Revenue Permanent Fund Dividend Division.
Final Thoughts
After the covid pandemic, remote working has become far more popular. In some industries, it is here to stay. Hopefully, you can take full advantage of our guide on incentives for remote workers.