Being a new homeowner can be a dream come true, but it can also come with its own challenges. From financial management to home repairs and maintenance, new homeowners are often caught off guard by the demands of homeownership.
Here are ten common challenges and solutions to help new homeowners navigate their first year.
1. Managing Finances
One of the biggest challenges that new homeowners face is financial management. Owning a home comes with many expenses, including mortgage payments, property taxes, and homeowners insurance. It can be easy to lose track of these expenses and miss payments, leading to late fees, penalties, and even foreclosure.
To avoid this, creating a monthly budget and tracking expenses is important. Online tools can help keep track of expenses and budgeting.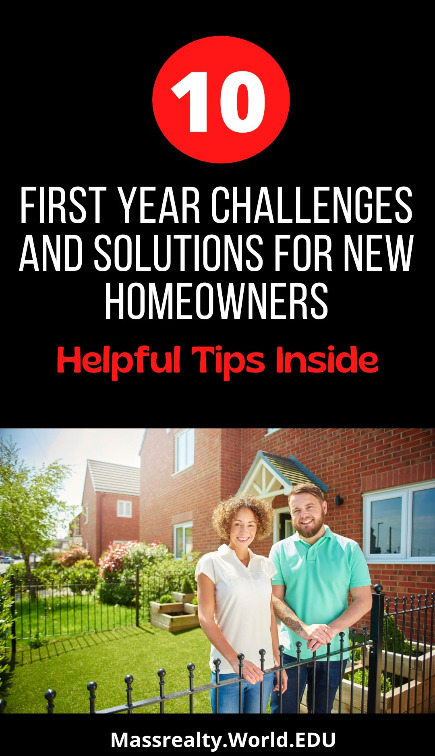 2. Home Maintenance
Home repairs and maintenance can be overwhelming for new homeowners, especially if you previously rented and are used to simply making a maintenance request. Regular upkeep and maintenance are essential to keep the home in good condition and prevent costly repairs in the future.
Keep a running list of repairs and prioritize them based on urgency and budget. Some tasks, like changing air filters or checking smoke detectors, can be done regularly, while others, like fixing a leaky roof, may require immediate attention.
By staying on top of repairs and maintenance, you can save money in the long run and prevent small problems from becoming big.
3. Finding Reliable Contractors
Home repairs often require the help of contractors, but finding trustworthy professionals can be a challenge. New homeowners may not know where to start or who to trust.
Ask for referrals from friends and family members who may have previously worked with reliable contractors. Online resources can also help find reputable contractors in your area. When selecting a contractor, check their credentials and references, and get multiple quotes before deciding.
4. Furnishing Your Home
New homeowners may struggle with furnishing and decorating their new space, especially if they're starting from scratch or planning to get rid of old furniture. Prioritize the most important pieces of furniture, like a bed, couch, and dining table.
Consider shopping at secondhand stores or online marketplaces to save money on furnishings. Start by choosing a color scheme and basic pieces, then add decor gradually. By taking a systematic approach, you can create a space that reflects your style and personality.
5. Implementing Safety Measures
New homeowners may be unfamiliar with their neighborhood's safety risks and precautions.
Some simple measures to increase safety include installing a security system or cameras, keeping doors and windows locked, and getting to know your neighbors. Taking simple precautions will make you feel much more secure in your new home.
6. Home Insurance 
Homeowners insurance is essential to protect your investment in your home. New homeowners may not be familiar with the different types of coverage available or how to choose the right policy for their needs.
Researching different insurance providers and policies and comparing coverage and prices is recommended. Consider factors like deductibles, liability coverage, and personal property coverage. Work with an insurance agent to ensure you understand your policy and have adequate coverage.
7. HOA Regulations
If your home is part of a homeowners association (HOA), it is essential to understand the rules and regulations. HOA rules can be complex and vary by community, but they can impact everything from exterior decor to parking.
Read and understand the HOA documents before buying a home and follow the rules to avoid fines or legal issues.
While the homeowners association may be unable to kick you out, the fines and fees could be financially painful.
8. Staying On Top of Deadlines
New homeowners may not be familiar with important tax deadlines, home insurance, and mortgage payments.
​​Missing any of these deadlines can result in delays, additional fees, or even losing the home altogether. Most home buyers work with a real estate agent throughout the home buying process who can help ensure all of the necessary deadlines are met, but once you own the home, you will be responsible for keeping track of deadlines on your own. Set reminders on your phone or calendar to ensure nothing slips through the cracks. 
9. Managing Pests
Pest control is an important aspect of homeownership that is easy to overlook. Pests like termites, rodents, and insects can cause damage to the home and pose health risks to residents. Regular pest control treatments can prevent infestations and keep the home safe and healthy. Work with a reputable pest control company to create a treatment plan and schedule regular inspections.
10. Landscaping and Yard Maintenance
Landscaping and yard maintenance can be time-consuming and costly. Regular upkeep can keep the yard neat and prevent overgrown grass or dead trees. Create a landscaping and yard maintenance plan, tackle tasks regularly, and consider hiring a professional landscaper to handle more complex tasks like tree trimming or irrigation system maintenance.
In conclusion, new homeowners face many challenges, but by staying organized, prioritizing tasks, and seeking help, you can successfully navigate the first year of homeownership. It's important to remember that owning a home is a significant investment, and properly caring for it can lead to many years of enjoyment and financial stability.