Spring and summer are the perfect seasons to give your home a fresh update and enhance its appeal. Whether you want to sell your house, create a more comfortable living space, or enjoy the warmer months, plenty of home improvement projects can make a big impact.
All these projects can be done as part of your spring maintenance projects.
From simple DIY tasks to more ambitious renovations, here are 10 projects to consider to help spruce up your home on any budget.
1. Enhance Your Curb Appeal
Boosting your home's curb appeal is a simple and cost-effective way to elevate its appearance instantly.
Add fresh mulch, trim overgrown hedges, plant colorful flowers, and repaint your front door. These small improvements can make a big difference in creating an inviting first impression for potential buyers or anyone passing by.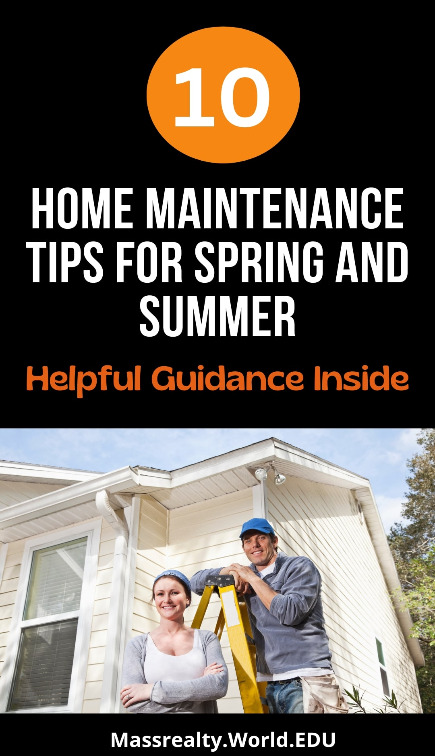 2. Create an Outdoor Oasis
Take advantage of the warmer weather by transforming your outdoor space into a serene oasis. Install a patio or deck for a comfortable seating area, add string lights or outdoor lanterns for ambiance, and invest in comfortable outdoor furniture.
Creating an outdoor living space can add value to your home and provide a perfect spot for relaxation and entertainment during the spring and summer.
Don't forget to add some greenery with potted plants, flowers, or even a small vegetable or herb garden to bring life and freshness to your outdoor space. If you have kids, you can even set up a swing set or outdoor play area!
3. Install a New Air Conditioner: 
With rising temperatures, having a reliable and efficient air conditioning system is essential.
Consider upgrading to a new air conditioner that will not only keep your home comfortable during the hot months but also help save on energy bills. Look for models with high energy efficiency ratings, such as SEER (Seasonal Energy Efficiency Ratio) ratings, to ensure optimal performance and cost savings.
4. Add Energy-Efficient Windows:
Upgrading to energy-efficient windows can greatly improve your home's energy efficiency, reduce your utility bills, and enhance the overall comfort of your home.
Look for windows with low-E coatings, double or triple glazing, and Energy Star ratings for the best performance. Additionally, new windows can also add a fresh look to your home's exterior and interior.
5. Paint Your Home's Exterior
A fresh coat of paint can instantly transform the look of your home's exterior and give it a much-needed facelift and spring and summer are the perfect time to work outdoors. Choose a color that complements your home's architecture and style, and consider using paint with built-in weather protection to ensure durability.
Don't forget to prep the surface by cleaning and repairing any cracks or damage before painting for a smooth and professional finish. Painting your home's exterior is a relatively affordable and effective way to improve its appearance and increase its curb appeal.
6. Upgrade Your Lighting
Updating your home's lighting can greatly enhance its functionality, aesthetics, and energy efficiency. Consider replacing outdated light fixtures with modern and energy-efficient options, such as LED bulbs, to reduce energy consumption and lower your utility bills.
For improved functionality, install task lighting in key areas, such as the kitchen and bathroom, and add accent lighting to highlight architectural features or artwork for a touch of elegance.
7. Install a Pool or Refresh Your Existing Pool
Summer is synonymous with pool time, and installing a new pool or refreshing your existing pool can be a significant home improvement project for the warmer months.
If you have enough space and budget, consider installing an in-ground or above-ground pool to create a fun and refreshing oasis right in your backyard.
Follow all local regulations and safety guidelines when installing a pool. If you already have a pool, consider giving it a facelift by resurfacing or repainting the pool walls, adding new pool decking or patio, and upgrading the pool equipment for improved functionality and energy efficiency.
If you live in a warmer climate, such as Houston or San Diego, you may even be able to get use out of your pool year-round!
8. Create a Functional Outdoor Kitchen
Summer is the season for outdoor cooking and dining, and creating a functional outdoor kitchen can be a fantastic home improvement project for those who love to entertain or spend time outdoors.
Consider installing an outdoor grill, sink, countertop, and storage cabinets to create a fully functional outdoor kitchen space.
You can also add a small refrigerator, an ice maker, or a bar area to enhance the functionality and convenience of your outdoor kitchen. Don't forget to provide ample seating and shade for a comfortable and enjoyable outdoor dining experience.
9. Add or Update Your Home's Insulation
Summer can bring scorching heat, and proper insulation in your home can help keep it cool and comfortable while reducing your energy bills. Consider adding or updating your home's insulation, especially in the attic, walls, and windows, to improve energy efficiency and keep your home cool during the hot summer days.
Insulation can help prevent heat transfer, keeping your home's interior temperature stable and reducing the load on your air conditioning system. It's a smart investment that can pay off in the long run by lowering your energy bills and making your home more comfortable.
10. Create a Relaxing Garden
Summer is a time to unwind and relax, and creating a serene and calming garden can be a perfect home improvement project to create a peaceful oasis in your outdoor space. Consider incorporating gravel, stones, bamboo, and minimalist landscaping elements to create a Zen-inspired garden.
Add a meditation area with comfortable seating, a water feature for soothing sounds, and some low-maintenance plants for a touch of nature. A Zen garden can provide a tranquil retreat for relaxation, meditation, and rejuvenation during summer and beyond.
Home improvement projects are a great way to freshen up your home for the spring and summer seasons.
Whether you're looking to attract more offers when selling your house or to simply upgrade your current living space, summer is a great time to take on new projects. So, roll up your sleeves, get creative, and transform your home into a beautiful and functional oasis for the upcoming season.