Selling a house can be stressful and time-consuming, but with the right strategies in place, it's possible to attract more offers and ultimately get the best price for your property. Here are some tips to help you do just that:
1. Prepare Your Home for Sale
This means decluttering, deep cleaning, and making necessary repairs or updates. A well-maintained home will be more appealing to potential buyers and can also help increase the value of your property.
2. Avoid Selling As Is
One of the more significant mistakes some sellers make is to market their house as being sold as-is. Doing so brings with it a negative connotation. Buyers get the feeling a seller is either trying to hide something or sell a lemon.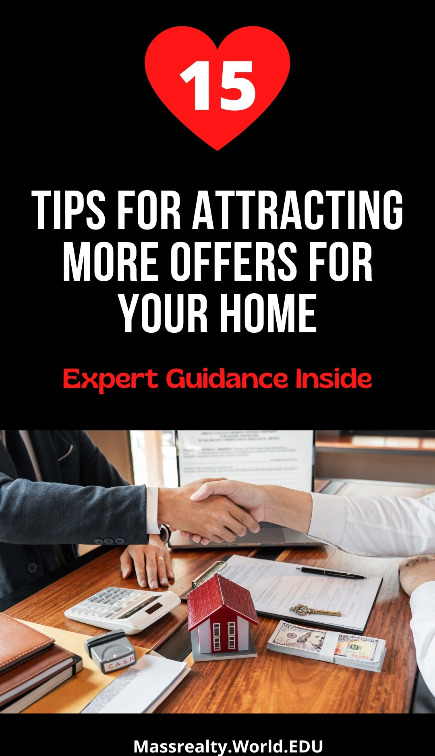 3. Set the Right Price
It's essential to price your home correctly from the start. If it's too high, you may not receive any offers. You could potentially leave money on the table if it's too low. Research recent sales of similar homes in your area to get an idea of the market value of your property.
You may also consider hiring a real estate agent or using online tools to help you determine the best price to set your home at.
4. Maximize Curb Appeal
The first thing potential buyers will see when they arrive at your home is the exterior, so making a good first impression is important. This means keeping the lawn well-manicured, power washing the exterior, and adding decorative touches like potted plants or a fresh coat of paint.
5. Stage the Interior
Home staging involves making the interior of your home look as inviting and appealing as possible. This can include arranging furniture, decluttering, and adding some personal touches like throw pillows or artwork.
6. Stand Out from the Competition
Make sure to highlight any unique features or amenities your home offers, like a pool, home gym, home office, or outdoor living space. In today's market, buyers can scroll through countless options online, and you don't want yours to get lost in the shuffle. 
7. Use High-Quality Marketing Materials
When marketing your home, it's essential to use high-quality materials like professional photos and a well-written listing description. You may also want to consider using video or virtual tours to give potential buyers a better sense of what your home looks like.
8. Consider Alternative Methods
If you're having trouble attracting offers through traditional methods, you may consider alternatives like selling to a company that buys homes for cash or listing your home on Airbnb.
9. Consider Rent-to-Own
This can be a win-win situation for both parties, as the buyer can build equity, and the seller can potentially sell their home for a higher price than they could have gotten through a traditional sale.
It also provides a steadier income stream, as the buyer will pay ongoing rent during the lease period. Rent-to-own can potentially attract a wider pool of buyers, including those who may not qualify for a traditional mortgage.
10. Find the Right Real Estate Agent
Working with a skilled and experienced real estate agent can be a great way to get more offers on your home. Look for an agent with a track record of success and consider using a discount real estate broker to save on commissions.
11. Host Plenty of Open Houses
Open houses allow potential buyers to see your home in person, which can be a lot more informative than only viewing photos online. While hosting open houses can be a bit of a pain, it is well worth ensuring buyers get a true feel for your home.
12. Advertise Your Home on Additional Channels
If more traditional methods aren't getting you the offers you're looking for, post ads on various channels like social media, local classifieds, and real estate websites. Your perfect buyer may just stumble across it!
13. Offer Incentives
Consider offering incentives to potential buyers, like covering closing costs or offering a home warranty. If you're having a particularly tough time selling your home and want to sell it quickly, it may be worth sweetening the deal for your buyers to set it apart from the competition.
14. Address Worries
Address any potential concerns or objections buyers may have, such as foundation issues or an open insurance claim. Determining what may deter buyers is a significant first step in figuring out how to put their minds at ease.
15. Offer a Flexible Closing Date
Offering a flexible closing date can make your home more attractive to buyers who may be in a hurry to move, or conversely, buyers who need to wait until a lease is up or their home sells to close on your home. If you can be flexible, your home may be one of very few on the market that buyers with specific time constraints can consider.
16. Use Your Network
Get recommendations from friends, family, and other contacts to help spread the word about your home and attract more offers. You never know whose coworker, friend, or child may be looking to buy a house!
Following these tips can increase the chances of attracting more offers when selling your house and ultimately get the best price for your property.