When a house hits the market, listings tend to focus on physical details such as when it was built, architectural style, square footage, and the number of bedrooms and bathrooms.
But many other factors contribute to a home's value — and some may be beyond your control.
These things can become important when you're selling because they can influence the days on the market or DOM for short. Higher DOM will have a direct correlation to the sale price of your property. Unfortunately, a high DOM will usually lead to a lower selling price.
If you plan on flipping a house this could become vital to know.
Here are nine unique things that influence property values.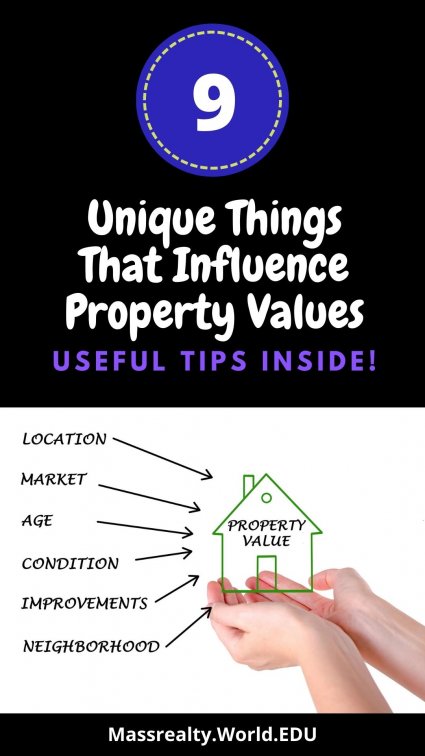 1. Proximity to Stores and Restaurants
Homes located near good schools and green spaces have always been valued highly, but recent housing trends show properties close to popular chain stores and restaurants are also increasing in value.
For example, having a Starbucks or Trader Joe's nearby is a big advantage.
2. The Neighborhood
Your neighborhood can positively impact your home's value. There is no doubt it will influence the real estate appraisal.
If you have a homeowners association that provides lawn service, snow removal, a community swimming pool, or other services, it may boost your home's value.
On the other hand, if you live in a neighborhood with dilapidated properties and numerous foreclosures, your property value could decrease. Neighborhoods with a high number of registered sex offenders also tend to have lower property values.
3. The Street Name 
Homes located on numbered streets, such as First or Second, tend to sell for less than comparable homes on streets with names. However, in major cities, such as New York, homes on numbered streets may sell for more because of historical or elite connotations.
Even an address' suffix can play a role. Boulevards, places, and roads tend to sell for more than streets and drives.
4. Updates and Renovations
Although some prospective buyers are looking to flip a house, most are looking for a turnkey property. Homes with renovated kitchens and updated primary bedroom suites tend to be valued higher.
If you're looking to list your home, consult with a local real estate expert to find out if the time and expense of a renovation will be worth the investment. Know the best questions to ask a Realtor before you call a contractor or tear down any walls.
5. Parking Accessibility and Garage
Homes with a garage and ample street parking tend to have higher values. Covered parking in particular commands more money than homes with only driveway or street parking.
If you own a home in a large city, your property will likely be more valuable if you live close to a train or bus station. Future buyers will appreciate the convenience, and they'll be willing to pay for it.
6. Energy Efficiency and Smart Tech
There was a time when video-camera doorbells, voice-activated lighting, and heat activation from a cellphone seemed like features from a futuristic movie. But these smart-tech devices are becoming increasingly common and desirable in homes.
Beyond convenience, smart tech offers homeowners peace of mind, and buyers are willing to pay for that.
Buyers also want energy-efficient homes that reduce utility costs over time. Buying a home is one of the most significant purchases a person will make in their lifetime, and it pays to have long-term cost savings.
7. Trees and Landscaping
A home's curb appeal can positively or negatively impact its value. A home with established trees and gardens will likely sell for more than a home with a patchy strip of grass.
If you're looking to add value before selling, consider adding low-maintenance landscaping. Plant a couple of trees in strategic places. That will help make a good first impression on buyers.
8. A Haunted History
Some buyers may be fascinated by true crime podcasts or ghost-hunting shows, but that doesn't mean they'll want to buy a home with close ties to either.
Homes that were the site of hauntings, infamous crimes, deaths, or murders are harder to sell, which lowers their value over time. If you aren't bothered by a home's past, you may be able to snag a haunted house at a great price. 
Likewise, homes located next to a cemetery tend to linger on the market. But living next to a cemetery comes with perks you may not have considered. Not only are the areas quieter, but the grounds are also well maintained, making a cemetery a peaceful and beautiful neighborhood.
9. Market Competition 
The market will ultimately decide how much you can buy or sell a home for. Prices are based on the basic economic principle of supply and demand. If there are more homes on the market than buyers are looking to purchase, values will drop, making it a buyer's market.
If there are more buyers than available homes, prices will rise, creating a seller's market. If you're a buyer struggling to afford a down payment in a seller's market, it might be time to learn how a side hustle can help you buy a home.
Some sellers can't wait for the market to turn in their favor. If you're selling your home, take a look at the best websites for selling your home by owner for tips that can help your property stand out from the crowd and turn a large profit.
Final Thoughts
When buying or selling real estate there are numerous factors that can influence property values. It is crucial to have this information so you don't make mistakes whether you are purchasing or setting a correct price when selling.
Hopefully, some of the tips we have provided here have been useful.