Americans have always been mobile people, but thanks to the rise of remote work, a historically turbulent housing market, and enticing moving incentives such as home buyer rebates, we're moving even more than usual. In fact, 36 million address changes were filed in 2021, an 80% uptick from the 20 million filed in 2020, according to the U.S. Postal Service.
As anyone who's packed up their life and moved across the city or country knows, moving is tough. One recent study found that people thought moving was more stressful than going through a divorce, having kids, or starting their first job. 
It's expensive, too. Although most people who are moving will carefully negotiate their new home price or calculate their real estate agent's commission, they often overlook the cost of a move. The same study found that Americans spend just more than $1,700 on the average move. 
As more Americans move and demand for moving services increases, prices rise too. However, there are a lot of ways to make a move easier. Here are eight of the best tips to make moving cheaper and less stressful.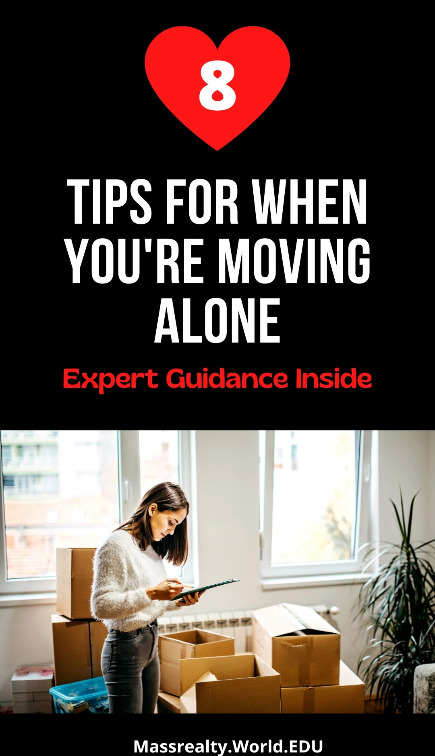 1. Consider Hiring Professional Movers
If you have the means to pay for professional movers and you're willing to shell out the cash, it can save you a lot of labor. 
Professional movers can handle every aspect of your move from start to finish. They'll come to your home, pack your belongings with packing supplies they provide, load your stuff, transport it to your new home, unpack, and dispose of the packing materials. They can also provide specialized services, such as disassembling and reassembling furniture, as well as packing and handling fragile objects.
However, professional movers can be expensive. Hiring a moving company to move a studio or one-bedroom apartment from New York City to Miami will cost between $1,255 and $4,964, according to moving website MoveBuddha. If you're moving farther or you have more stuff, you can expect to pay more and may need to take measures to keep costs low.
Finding a good moving company is a lot like finding a great real estate agent. Start by asking friends and family for referrals. Carefully check online reviews and comparison shop to save money on moving costs.
2. Discard Your Stuff
Moving is a great opportunity to get rid of things you no longer need or use. As a bonus, anything you throw out is something you won't need to pack and move. 
Start with items that are worn out, damaged, obsolete, or broken. This may include old power cords or outdated electronics, shabby furniture, and expired medications or toiletries. 
Next, look in your closet. Get rid of any clothes that don't fit. If you haven't worn an item for two years or more, you can probably live without it. Toss or donate it, depending on its condition.
Some experts also suggest making a list of everything you should keep and why. Get rid of anything that's not on the list.
3. Assemble an Essentials Bag
Once you get moving boxes, start packing, and decluttering, it's easy to lose track of important documents. Experts suggest that you gather important papers — such as mortgage documents, utility bills, contracts, basic IDs, and information about your destination — and put them somewhere you won't forget. It's best to have hard copies in case your electronics die en route.
The day before departure, you'll want to add other necessities, such as medications, phone chargers, family contact information, and essential toiletries to your bag of vitals.
4. Don't Wait Until the Last Minute
A lot of people wait until the weekend before their big move to start packing, and they end up working around the clock or having to delay their move.
Start weeks or months in advance by discarding items you know aren't coming with you. You can also pack belongings that are out of season, such as coats in summer or summer clothes in winter.
5. Put a System in Place
Start by getting basic packing supplies, such as sturdy moving boxes of various sizes, packing tape, bubble wrap, and moving pads for delicate items.
If you're moving heavy items by yourself, consider getting a dolly or hand truck. Print out a moving checklist to make sure you don't overlook anything important.
If you're packing the truck yourself, don't assemble big boxes full of heavy items. Moving experts suggest keeping the weight manageable by putting lighter items in big boxes and heavy items in small boxes.
For example, put curtains, sheets, or pillows in big boxes, and put heavy items, such as books, in small boxes. 
Another tip is to pack items according to where you got them and label them carefully. The contents of kitchen and bathroom drawers can often be packed directly into a box and unpacked directly into drawers at your new home. The same applies to closets and bookshelves.
6. Treat Special Items With Care
Dishes will need to be packed individually and wrapped in paper to prevent breakage. Your mattress should be put in a special cover to prevent contamination during the move.
Many contemporary televisions, such as plasma TVs, need special handling to prevent damage. Even laying them flat can ruin the picture. Shoes may also need to be individually packed and padded. Valuables should be kept on your person during the move, just in case.
7. Get the Right Vehicle
Make sure the truck or trailer you rent can hold all your belongings. If you're moving solo, many experts suggest getting a truck with a ramp. Being able to roll boxes and items into the truck instead of lifting them can make your move much easier and prevent injury.
8. Prepare Your New Home
If you're moving across town, visit your new home the day before the move to make sure everything's ready. If it's an apartment building, make sure the building allows move-ins on the day you arrive. 
Regardless of how far you're moving, call local utility companies to make sure your electricity, water, and heat are turned on before you get there.
There are few things more demoralizing than arriving at your new home after an exhausting move only to find that you can't shower or charge your phone. You want to be able to hit the ground running when you move into your new home.
Hopefully, you have enjoyed all of these tips for moving alone.