When shopping for a home, buyers need to ask themselves how the location and size of their new house will support their family's lifestyle, as well as their pets' comfort.
Most animal lovers consider pets part of the family, and it's important to keep their needs in mind while house hunting. Here are seven things to consider when buying a home as a pet owner.
1. Proximity to Care, Amenities
Just like it's important to look for homes close to schools and parks when you're raising children, it's crucial to buy near amenities that will benefit your pet. Moving with pets includes access to pet supply stores and veterinarian clinics, including a 24-hour health center for emergencies.
If you ever run out of food at the last minute or your pet has a health emergency, you may regret living so far away.
While looking for homes, consider how close you'll live to dog parks, walking trails, or green spaces. Make sure to check the rules regarding pets on trails and in public parks. Some may not allow pets or have specific leashing requirements.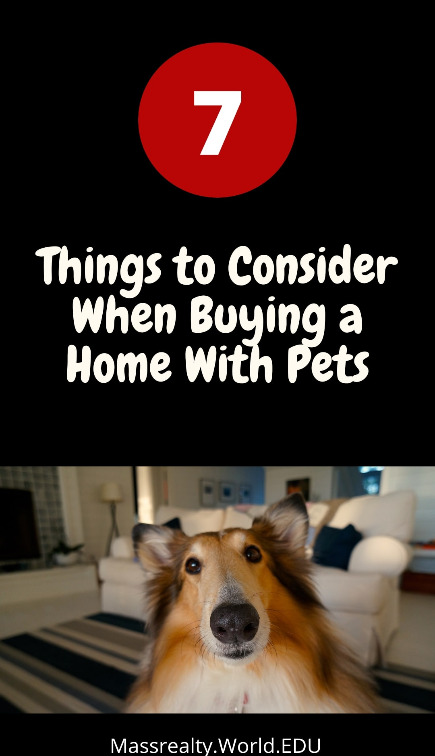 2. Amount of Indoor, Outdoor space
Buying the perfect home for your pet could be challenging, but your focus will likely be finding a home with plenty of space for humans and animals.
You know your pets' space needs better than anyone else, but as a general rule, bigger animals, such as large-breed dogs, are more comfortable in larger spaces with room to roam. If you have animals, such as fish, birds, and snakes, in cages or aquariums, make sure any home will have a secure place for their habitat.
Note any home features that may benefit your pet, such as big windows that create sunny patches and are perfect for watching the neighborhood. On the other hand, take note of anything that might cause problems for your pets, such as a fireplace that doesn't have a proper cover.
If you have a dog or a cat that's allowed outside, look for a yard with plenty of green space and a fence — or the ability to install one.
If the house does not already have one, you may be able to request a stipend for fence installation from the seller as part of their closing costs. You may also be eligible for a home buyer rebate that could subsidize the cost of any updates or repairs you need to make your home more pet friendly.
3. Durability of Building Materials
Animals can add a lot of wear and tear to a home, especially if they're active. You can prevent significant damage to your new home by looking for properties that use durable or animal-friendly materials.
If you have a pet that sheds, consider looking for a house with hardwood floors or tile. Non-carpeted surfaces are easier to clean and less likely to be torn up or worn out by excited dogs or anxious cats.
Likewise, if you have a pet that's prone to chewing or scratching on wood, learn more about the building materials used for trim, molding, and doors.
It's best for the safety of your pet to use behavior modification techniques to eliminate destructive behavior, but while you're training, you can help prevent wear and tear by buying a home with durable materials.
4. Accessibility for Aging Pets and Pets With Special Needs
Accessibility is essential for people and animals. If you have an aging pet or one with special needs, look for homes that accommodate them.
For example, if your pet has arthritis or poor vision, they will likely be more comfortable in a ranch-style home with fewer stairs than a multilevel property.
5. Storage for Pet Necessities
Top-notch real estate agents will be quick to point out closets and storage rooms when you're touring a home. Don't be shy about asking for space to store your pets' necessities. This includes the adequate cupboard or drawer space for food, toys, waste bags, and your pets' other needs.
If you're a cat owner, note where you'd be able to store litter boxes in your home. As a general rule, you should have one box for every cat. You'll be grateful you planned ahead before buying a home and discovering you don't have a good space for stashing the litter.
6. Pet Friendliness of the Neighborhood
Animal lovers will want to look for a neighborhood that is pet friendly. If your pets spend a lot of time outside, you want to ensure they'll be safe. Do you see other pets in the area? Are there a lot of cars traveling at high speed? A high-traffic area or a rural area with predators could pose a danger to your pets.
If you are looking at properties with a homeowners association, check if pet policies are in place.
In addition to having rules for animal waste management, some HOAs have requirements on what kind of fence you can install and whether you can make modifications to your home's exterior to accommodate your pets, such as adding a doggy door or a garden window for your cat or bird to sit in.
7. Make a Moving Plan
Moving is stressful, and it's no different for your pets. Keep your pets' well-being at the forefront of your mind while moving and look for ways to reduce or remove stress as much as possible.
Some pets may benefit from pheromone plug-ins at your old and new place before, during, and after moving day. While you're packing boxes and removing furniture, these plug-ins release relaxing pheromones that can bring your pets peace.
Make sure all pets are properly restrained or contained while moving. This will keep them from being stepped on or accidentally let loose during all of the activity.