Home renovations don't always require a big budget. With some planning and know-how, you can DIY your way to functional, updated spaces without spending a fortune.
The possibilities are endless, but there are a few key things to keep in mind before you get started.
Know — and Grow — Your Budget
Every project, no matter how big or small, needs a budget to stay on track and keep costs from spiraling out of control. 
Whether you're a seller who's renovating to get ready to list, a renter looking for a house, or a buyer anticipating projects in your new home, the fastest way to boost your renovation budget is by saving money on real estate costs. 
Using a flat-fee agent or broker, for example, could save you thousands, which ultimately means more money for renovations. 
Consider using a credit card to pay for renovations, especially if you have an opportunity to earn cash back, points, or other rewards when you purchase materials or supplies.
Be sure to pay the balance each month to avoid interest charges, or your DIY project could end up costing significantly more than you intended.
You might also grow your DIY budget with funds from a side hustle or gig work. Setting up a separate savings account for DIY projects, particularly if you plan to space them out over time, is an ideal way to set money aside so it's there when you're ready.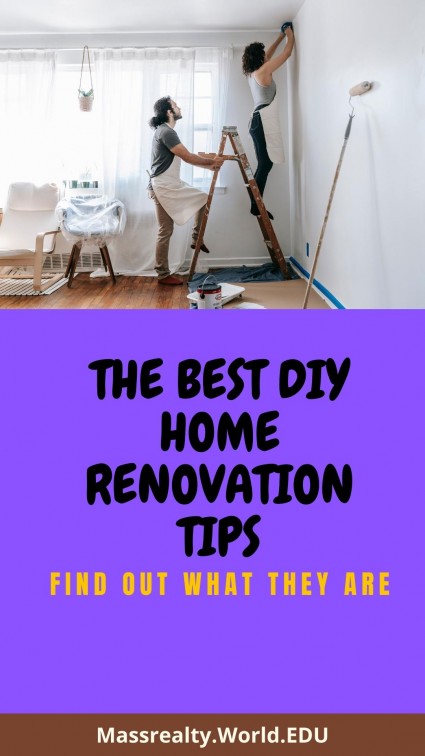 When to DIY and When to Call a Pro
Before you take on any DIY project, ask yourself if you have the necessary time and skills to accomplish it.
There's nothing wrong with taking on a project as a learning opportunity, provided you have the time and patience to build up your expertise, but be honest with yourself.
If you bite off more than you can chew and need to pay someone to fix your DIY disaster, it could cost you more in the long run.
And of course, some projects are best left to professionals — anything that requires a permit or will need to pass inspection, for example.
Complex electrical rewiring, plumbing, or projects that involve the basic structure of your home like the foundation or roof should be handled by a pro; now is not the time to YouTube it. 
Choose Your Projects
There's no limit to the projects you might choose to make your home more enjoyable for everyday living but also consider growing your equity with the right home improvements.

Here are a few ideas to get started:
Paint (Almost Anything)
Nothing creates an instant facelift or provides more bang for the buck quite like a fresh coat of paint. You might: 
Create a

feature wall

by painting one wall in the room a contrasting color or slightly lighter or darker shade. Consider adding a geometric shape to highlight a focal point like a sofa or a dining table. 

Forgo the hassle of wallpaper, and

style your walls with a stencil

and paint instead.

Paint your front door or

garden gate

an eye-catching color for more curb appeal.

Update your kitchen cabinets by painting them in

on-trend colors

.

Paint old hardwood floors in a solid color, geometric pattern or with a painted border around the perimeter. 
Create a Home Office
Working from home is here to stay, so it might be time to ditch the dining room table office and invest in upgrading your space. You don't need an entire room — plenty of people are turning a quiet corner, attic nook, or even a closet into a home office. 
Remove the hanging rods from a closet, and install deep shelving for a desk and shallow shelving for storage. Paint the surrounding walls, or decorate with peel-and-stick wallpaper. Don't forget a stylish (but functional) office chair to complete your new space.
These are all excellent home staging tips.
Update a Bathroom
Add new life to an old bathroom without a major remodel. Start by removing old wallpaper or repainting in a fresh new color. Update the lighting to fit your style, and trade old hardware for a new sink faucet, towel bars, and vanity pulls.
Upgrade your shower head or install a rain shower if it's within your budget, and replace outdated mirrors or medicine cabinets with updated versions. 
Design a Gallery Wall With Floating Shelves
Floating shelves are relatively inexpensive, easy to install, and create extra display storage almost anywhere. Use floating shelves or picture ledges to display framed photos or other artwork of varying sizes — just be sure to adjust the spacing to accommodate your tallest piece of art.
Floating shelves allow you to switch out your artwork seasonally or whenever you feel the need for a change. Fill in any gaps and bring some life to the display by decorating with live plants. 
Add Crown Molding
Don't forget to look up — if you wish your rooms had more architectural details, adding crown molding to the ceilings is an easy way to give any room a more polished look and vintage feel. 
While you're looking up, consider adding wallpaper to a ceiling to make a bold statement with texture, color, and pattern. Don't go overboard, though. Choose one room to make the most impact. 
Make it Stick
Peel-and-stick tiles are a quick and easy way to update floors, walls, and backsplashes. You can find peel-and-stick tiles in specialty stores as well as online, and in a wide range of materials — from ceramic and glass to felt and vinyl.
Make sure you follow the installation instructions carefully (practice first), and prep your surfaces thoroughly before you begin. With proper installation, peel-and-stick tiles can last anywhere from five to 25 years. 
Add Storage With Built-Ins
Create your own built-in storage using unfinished stock kitchen cabinets you can find at the hardware store. Upper cabinets tend to be less expensive than lower cabinets, and can be configured in a variety of widths and sizes to create a custom look.
Add high-end hardware and embellish with molding for an elegant look. 
While not everyone is a DIY expert, there's no shortage of projects for homeowners of any skill level to choose from that can be accomplished with some patience, planning, and creativity.