Don't Do These Things When Buying a House
Are you planning to make your first home purchase? When you decide to buy a home, it is easy to get swept away by emotion. The idea of having your own place, where you can choose what to do whenever you want, is empowering.
However, don't let the emotion take control and allow you to make a decision that you may regret.
Here is a list of the top things NOT to do when house hunting to help you avoid major pitfalls.
Follow the advice along with asking smart home buying questions, and you should find yourself in a much better position when all is said and done.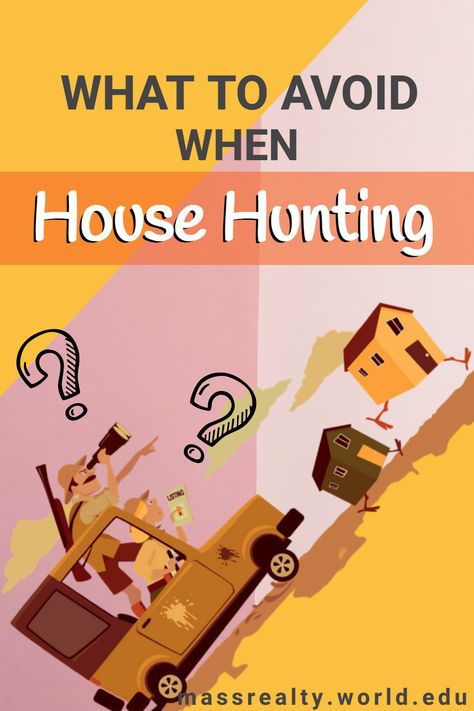 Make Sure to Know What you DO NOT WANT as Well as What You Need
People often fall into the trap of buying a home based on one or two things, such as just the price or maybe the location, without considering the house in context.
It is important to avoid homes that have the things you know for sure you do not want.
For example, if you hate yard work and your outdoor tool arsenal consists of a wide-brimmed hat and sunglasses, buying a home with a large yard and numerous shrubs would likely be a bad idea for you.
Along those same lines, if you are married with two young children and another child on the way, buying a 2-bedroom house or even a 3-bedroom house may not be the best option for you. Your family is growing and will need a lot of space in the coming years.
Before looking at homes, decide on what you must have in a place. These should be non-negotiable things. Then make a list of things you would like to have but could live without.
These 2 lists of features should help you narrow down your selections.
Do Not Look Too Quickly at a Home
Whether it is viewing an Open House or making an appointment with an agent to look at a home, you should take your time.
Walk through the home to identify the major sections. Take time to review the master bedroom, the bathroom, and the closets. These areas can cause quite a bit of stress if they are not large enough or have a bad design.
Stand in the living room and picture your belongings and your day-to-day activities in that space. Walk to the kitchen and take notes as to the size of the area as well as how things are laid out.
Step outside and explore the yard, both front and back. Can you see yourself happily living in this spot? Are there any major problems that would make you miserable if you had this view or regularly heard these noises?
This will be your home for at least a few years. Make sure you are happy now with the place before you ever hang the first picture.
Don't Get Opinions from Too Many People
It is always a good idea to get input from people that have purchased a home. Whether it is a friend or relative or a co-worker, learning from other people's home buying mistakes is always a wise move.
However, nobody is going to be exactly like you. Each person you speak to will have their likes, dislikes, and opinions.
If you are married with a small child, the opinions of a permanent bachelor may not line up with your house goals. Ask for input but take the advice with a grain of salt as well.
It is Highly Unlikely You Will Find a Perfect Home
If you are not building the home of your dreams with a contractor, every home you view will likely have at least one or two things you wish to change.
It could be something small, like wanting a double vanity in the master bedroom. Or it could be something vital, like that extra bedroom you need for your family's size.
As mentioned before, using your list of crucial things for your needs will help you decide on the right house.
Don't Overlook the Neighborhood
You cannot pick your family, but you can pick your new neighborhood.
You must spend a bit of time getting familiar with the place that you will sleep every night.
Researching the neighborhood is a crucial part of the home buying process.
Are most of the homes tidy and well kept, or do you see many messy properties?
Do you see homes owned by people in a similar life stage as you, or does there appear to be a big age gap?
How loud is the closest neighbor? Can you hear their tv, or worse, can you hear them arguing?
All of this information is something you will have to gather on your own. No smartphone app or website shows the best neighborhoods based on a few specific requirements.
Trying to Find a Home Without a Real Estate Agent
A real estate agent can be your most valuable asset when looking for a home.
First of all, they can review your list of needs and weed out homes that simply won't match what you expect in your new place. They can also locate all the homes that will match your needs within a certain area not to waste time looking at homes in the wrong location.
Mort importantly, they are connected to new listings. When a home becomes available for sale, the agent can notify you and give you a chance to see the home while the sellers are anxious to move the property.
Going House Shopping Before Talking to a Mortgage Lender
We saved the most important step for last in hopes that it will stick with you.
The biggest mistake you will make in shopping for a house is reviewing homes without first talking to your mortgage lender.
You need to know how much home you can afford, plain and simple. Your lender can review your finances, explain your mortgage program options, and provide you with a pre-approval letter.
The pre-approval lets real estate agents know that you are serious about purchasing a house and that your offer can be taken seriously.
It also provides more info for the real estate agent when researching which homes are right for your needs.
Final Thoughts On Things To Avoid When House Hunting
Using these tips should help get you in the right frame of mind when looking at homes. It should also prepare you for the upcoming process and help you to avoid some issues.
Once you're done with your purchase you can focus on making some nice improvements to bump up the value.
Hopefully, you now have a much better understanding of what not to do when house hunting.